Saturn and the Darkened Full Moon
This Full Moon is happening with a Total Lunar Eclipse, early Wednesday evening (Feb 20, at 7:30 pm Pacific time). The eclipse is visible from Western Europe, the Americas, and portions of Africa and Asia.

During the eclipse, the Full Moon darkens as it enters the shadow of Earth. Simultaneously, the surrounding stars (accompanied by Saturn) appear relatively bright. As the Moon brightens, the surrounding objects again grow dim. The Moon will have its exact alignment with Saturn later the same night, around 2:00 am Pacific time.

The darkened Full Moon with Saturn highlights an opportunity for those willing to take stock of their true situation and act accordingly. Saturn is still roughly trine with Pluto—an arrangement which promotes regeneration and renewal for all conditions ripe for change.

From the darkness
Rings a tone of new potentials

Karma need not bring fear
When seen with attentive eyes
Old shapes take new form

New choices and new strength
Emerge in opportunity's light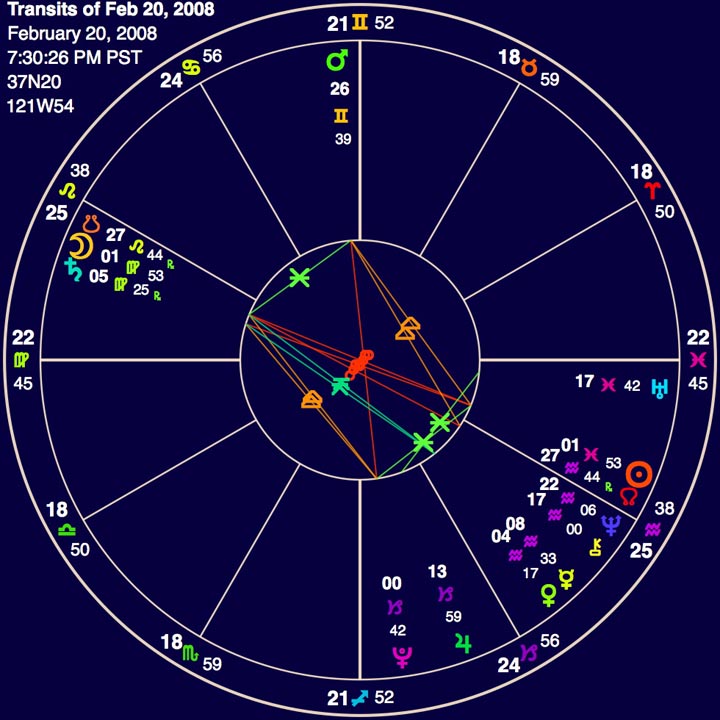 Chart for February 20, 2008 Full Moon

Mars slowly approaches Conjunction with Saturn
Also with this Full Moon eclipse, Mars will be high in evening the sky--above and slightly to the right of Orion. Simultaneously, Mars will be making a very harmonious angle to both the Sun and Moon. Having recently completed a retrograde cycle, Mars is now moving toward an opposition with Pluto (exact on March 7--date of the next New Moon), and a conjuction with Saturn (exact on July 17, 2008). This series of Mars transits is resonant with a season favoring thoughtful action. Under such circumstances, right initiative brings the resources of heaven into the workings of karma.
Blessings for your Journey.
Related Articles: